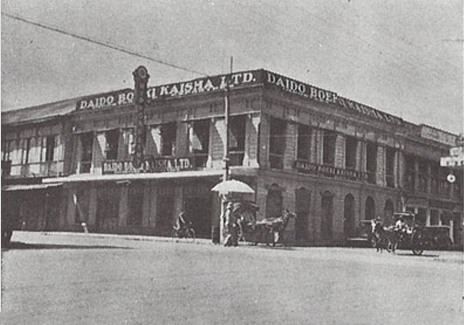 Marubeni in the Philippines
Today, Marubeni Philippines Corporation remains one of the oldest and the most important among Marubeni's network of companies worldwide.
Japan's Marubeni Corporation started overseas activities in Manila, Philippines in 1909 as trader of textile and abaca. Branches were established in Cebu and Iloilo in the 1920's and Davao in the 1930's to begin the network in the country. Until the 1950's, what is now Marubeni Philippines Corporation was known as Daido Boeki and Daiken Sangyo. In 1967, it was granted a branch status by the Philippines' Security and Exchange Commission (SEC). And in 1996, Marubeni Philippines Corporation was incorporated under Philippine laws. At present, Marubeni is continuing to expand its operations in new markets that will eventually contribute to its ever-widening circle of partners, investments, and work force. Concurrently, it strives to improve on the efficiency that has made it a successful business enterprise.
Marubeni as a Sogo Shosha
The Japanese sogo shosha is a collection of various groups involved in different business fields. Each part of the organization has something unique to offer to the group, thereby, making it a formidable player in international trade.
Marubeni's transactions are greatly diversified among domestic, export, import and 3rd country (offshore) transactions with activities involving trade, investments, wholesale, retail, counter trade, and financing.
On the worldwide scale, Marubeni operates through its global network composed of:
(As of April 1, 2020)
136 offices (branches and corporate subsidiaries) in 68 countries and regions
4,404 employees (excluding 434 local employees of overseas branches and offices and 1,487 local employees of overseas corporate subsidiaries)
Marubeni is involved in the handling of products and provision of services in a broad range of sectors. These areas encompass importing and exporting, as well as transactions in the Japanese market, related to food materials, food products, textiles, materials, pulp and paper, chemicals, energy, metals and mineral resources, transportation machinery, and includes offshore trading. The Company's activities also extend to power projects and infrastructure, plants and industrial machinery, finance, logistics and information industry, and real estate development and construction. Additionally, Marubeni conducts business investment, development and management on a global level.